Rupert Murdoch 'not fit' to run News Corp, MPs say
MPs on the Culture, Media and Sport select committee have concluded that Rupert Murdoch is not 'a fit person' to run an international company.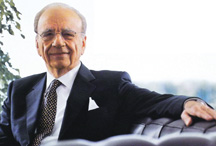 MPs on the committee concluded in their report on the News of the World phone hacking scandal that not only did Murdoch, his companies and staff mislead them in the course of their investigations, but also that he is 'not a fit person to exercise the stewardship of a major international company'. They also decided that former News International boss Les Hinton lied to MPs and that NI generally displayed 'blatant contempt' for the committee. Ouch.
The report has prompted BSkyB boss Jeremy Darroch to stress that BSkyB and News Corporation are separate companies, despite Murdoch owning 39% of the broadcaster. 'We believe that Sky's record as a broadcaster is the most important factor in determining our fitness to hold a licence' he said. Looks like he's putting a bit of distance between BSkyB and the rest of the Murdoch empire, just in case…
BSkyB is regulated by Ofcom, whose rules state that owners of broadcasting channels have to be 'fit and proper' organisations. It is quite possible that the Culture Media & Sport committee's conclusion today increases the prospect of a similar verdict by the regulator. In which case, News Corp could be forced to relinquish control of the broadcaster, or the Murdochs might have to relinquish control of News Corp. Neither of which will appeal.