Rupert Murdoch suffers a blow from News Corp investors
A majority of News Corp's independent shareholders have voted in favour of appointing a new chairman from outside the Murdoch family and the firm.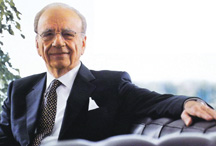 The Murdoch family has had an iron grip on News Corporation for decades, controlling around 40% of the voting rights in the company, and with their good friend Saudi prince Alwaleed Bin Talal, around 50%.
But in a shareholder resolution tabled at the company's annual meeting in LA, more than 30% of the votes cast were in favour of finding a new, non-Murdoch to chair the company. Whilst this is not the majority needed to actually make it happen, the 30% represents around two thirds of the 'independent' shareholders who are not Murdochs or Saudi princes.
If we're honest, we all knew that Murdoch's legitimacy was being eroded, right? At 81 years of age he can't possibly be the sharp operator he once was, and after the phone-hacking scandal and the departure of his son as boss of News International, his position has come under question.