Russia: Special Report - The feel-good factor
Russia's petro-wealth has injected a renewed assertiveness into the country that defines every aspect of economic policy.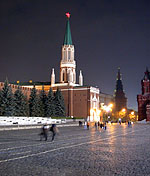 Russia has never had it so good. The record price for hydrocarbons has given a tremendous boost to the country that holds 25% of the world's gas supplies and competes with Saudi Arabia as the world's largest exporter of oil. The Kremlin has put about $108 billion of its petro-dollars into a Stabilization Fund, which it has used to pay off almost all of its Paris Club debt, IMF debt and London Club debt, in the process gaining an investment grade credit rating (in late 2004) and becoming a net creditor. In addition to the Stabilization Fund, the central bank has a further $250 billion in foreign currency reserves, giving Russia the third biggest pile of foreign exchange reserves of any country in the world.
This petro-wealth has trickled down and led to a consumer boom in Russia. James Cook, manager of the Aurora Fund, a $64 million equity fund that specialises in the Russian consumer sector, says: "Spending was up 66% last year. The middle class is growing quickly. If you look back to 2002, the poverty rate was 25%; now it's down to 12%."
Russians, historically rather a melancholy people, have the feel-good factor in abundance - President Putin's policies enjoy an approval rating of about 80%, according to the latest poll. The government's self-confidence has been given an enormous petro-shot in the arm. Just eight years after the humiliation of the 1998 debt default and 16 years after the traumatic collapse of the Soviet Union, the Russian state has returned as a global power.