Ryanair announces plans for 1,000 new jobs
According to Ryanair's outspoken boss Michael O'Leary, the budget airline is 'growing like gangbusters' and is on course to create 1,000 new jobs at airports in Liverpool, Manchester and the East Midlands.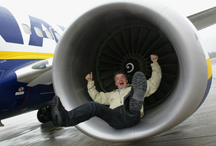 Speaking on BBC Breakfast, O'Leary announced that Ryanair was expanding at a rate of knots and would be carrying an extra million passengers by 2013. These flyers would be taking advantage of nine new routes being served by the airline, he added.
In order to cope with the influx of new customers, O'Leary is planning to take on 460 new roles at East Midlands, 360 at Manchester and 180 at Liverpool. So anyone hoping for a job as a Ryanair pilot, engineer, stewardess, or handling baggage, now's your chance...
And the reason for this sudden growth spurt? A small tweak to airline strategy, says O'Leary. 'We're taking more and more big aircraft and placing those not at the big airports like Heathrow, but across the regions,' he said. 'People no longer want to travel down to Heathrow, they want to fly from their local airport.'