Ryanair bullish despite profit slump
Ryanair's profits have fallen by nearly 50% - but it's still expecting to win big in the current turmoil...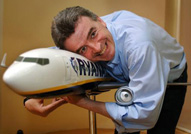 Ryanair reported today that its first half profits were down 47% to €215m, thanks largely to the soaring price of fuel. But although costs were up and fares were down, the no-frills airline could afford to be pretty cheerful about today's figures – passenger numbers were up nearly 20%, giving credence to CEO Michael O'Leary's claims that it's winning market share from higher-priced rivals like BA. And now the fuel price is plummeting, its prospects for next year look a lot better...
There's no question that oil prices have taken a huge chunk out of Ryanair's margins, just as they have for every airline. With the oil price soaring to almost $150/ barrel, Ryanair's fuel costs for the half-year to September were more than double the total for the same period last year (indeed, they accounted for half of its entire operating costs). However, it looks well placed to profit as the price per barrel slides – unlike many of its rivals, it hasn't bought a huge amount of its fuel in advance, so it can stock up for the coming months much more cheaply. And the fuel it has bought for early next year was hedged at almost $50/ barrel less than the average price over the last six months – so margins should rebound strongly.
Unfortunately this will come too late to save it from recording a loss for the second half of this year – with average fares expected to fall by up to 20% in the next two quarters, it will do well to break even for the year as a whole. However, the good news is that passenger numbers continue to rise – another 19% in the first half, hitting 32m. And it expects another jump in the second half, as rivals increase their fares to pay for higher fuel hedging costs.