Ryanair in buying bonanza
Budget airline Ryanair is in talks with US, Chinese and Russian aircraft manufacturers over the acquisition of up to 300 planes between 2015 and 2021.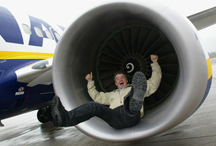 King of cut-price getaways Michael O'Leary is back in the news. This time he's not charging for toilet trips or calling for a 'fat tax', he's got his eyes set on growth.
O'Leary wants to grow his airline from 300 to 500 aircraft in the next decade, increasing passenger numbers from 72.1 million up to 130. 'Staying as is for the next 10 to 20 years sounds a bit too much like just lethargy... we're not going to stop here," he told the FT.

But, surprise, surprise, O'Leary doesn't want to dig deep: he claims that he can get his hands on the new aircraft for a song. This is Ryanair's speciality: buy a bargain, sell a bargain. Back in 2002, Ryanair acquired 100 Boeing 737-800 jets with options on a further 50. While the 'rate card' for the transaction stood at $9.1bn, you can be sure that O'Leary paid much, much less.

Now, nine years on, O'Leary is hoping to woo Boeing, China's Comac or Russia's Irkut into a similarly lucrative deal. A recession is always the best time to expand: assets come cheap and there are few players with the cash to keep pace. O'Leary also wants to flex his aeronautical muscles in Scandinavia and Eastern Europe, widening Ryanair's reach in these territories and beyond.
He's still umm-ing and ahh-ing over a move into long haul travel, however. One minute, it's 'the future', the next, we have soundbites like this classic: 'The low-cost model only really works for short-haul flights. If we started flying farther afield, we'd have to do something stupid like introducing what I call a 'rich class' to make it pay.'

Joseph Lampel, professor at Cass Business School, believes that O'Leary's ambition may be outstripping the best interests of the company. 'One of history's enduring mysteries is why Napoleon invaded Russia. He had an empire, all the pomp and circumstance of an imperial court, and the all round title of military genius. And yet he could not resist the lure of complete domination of the European continent.

'One gets the same feeling reading the news release about Michael O'Leary's ambition to acquire 300 aircraft. What is the rationale for this audacious expansion? [It] will stress Ryanair's organisational capacity and constrained terminal availability to the limit.'

Courting a new supplier also contravenes one of the four pillars of Herb Kelleher, Ryanair founder and former chief exec of Dallas's Southwest Airlines. His key principles were: keep overheads to a minimum; reduce stopping times at airports; scrap air miles schemes; and only fly one kind of aircraft to keep engineering costs down. O'Leary is about to throw the latter precept out of the window. Or perhaps this is all an elaborate ruse to force Boeing's hand. Unless these new toys come ludicrously cheap, the cost of bringing in new pilots, engineers, handbooks and parts for a new aircraft could be prohibitive.