Ryanair comes out fighting after BBC 'hatchet job'
It's brave to engage Ryanair in a public slanging match. Though we're not entirely sure it was necessary.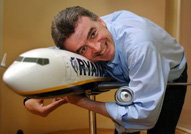 Ryanair has been getting its knickers in a twist about last night's episode of Panorama on BBC One, which looked at why the low-cost airline seems to divide opinions (to put it kindly). Ryanair claims the whole thing was a 'hatchet job', and has published 20 pages of emails between the two to prove it, as well as offering a load of free flights for every lie in the programme. To be honest, we're not sure it comes out of the exchange smelling of roses either. But equally, it's also true that there was very little substance to the BBC's lines of attack. And we suppose all publicity is good publicity, as far as Ryanair is concerned...

Ryanair appears to have published this email exchange to prove that the BBC refused its chief exec Michael O'Leary the right to reply via an interview. But on closer inspection it emerges that Ryanair actually refused an interview request initially, only offering to do it later if it was run completely live and/ or unedited (despite claiming it didn't want editorial control - erm...). And while you can see Ryanair's point, we don't think it's particularly unreasonable for the Beeb to turn down that request. What's to stop O'Leary not answering the questions, or turning it into an advertorial, or saying something he shouldn't?

Ryanair is pretty aggressive towards the BBC throughout the exchange; it refused to co-operate from the outset – suggesting that its 67m passengers were more than sufficient vindication of its approach – and responded to a polite request for an AGM press pass with a curt: 'No. We have no intention of facilitating yet another BBC hatchet job'. After Panorama turned down its request for an unedited interview, it's variously accused the BBC of 'bias', 'censorship' and 'blatant lies'; in fact, it claims to have identified no fewer than 11 mistruths in last night's show, and is now giving away 100,000 free seats for each one. 'More Bananarama than Panorama,' the ever-quotable O'Leary scoffed today.

Clearly Ryanair suspected Panorama of having an agenda, and it may have had a point: after all, controversy makes better TV. But we're not sure this aggressive approach is really necessary. After all, Ryanair is controversial enough to be a perfectly legitimate topic for Panorama to cover (in fact, given how timorous and apologetic the BBC appears to have become lately, we're glad they had the nerve to do it). And our overriding feeling from last night's show was that it failed to land any telling punches; it was mostly just a series of vague moans from disgruntled passengers and staff. We know Ryanair seems to revel in its anti-establishment stance - but was it too much to hope that it could play nicely for once and take the higher ground?

In today's bulletin:
Pound hammered again as fuel drags inflation to five-year low
Ryanair comes out fighting after BBC 'hatchet job'
Editor's blog: ITV, the search from hell
Women's pension pots looking lighter
Businesses failing to protect us from ID fraud