Ryanair in extra hand luggage allowance shocker!
The budget airline has followed through on its promise to be nicer to customers with a set of new customer service rules.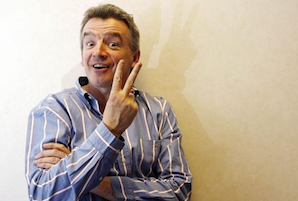 Many thought the day would never come. We'd wager Michael O'Leary himself thought the day would never come. But here it is. Ryanair is changing its rules to be fairer to passengers. Strike MT down.

Following a series of disappointing financial results, Ryanair and its oft artless chief executive Michael O'Leary are on the charm offensive. After a number of announcements proclaiming the airline's change of heart it has put its money where its mouth is and made some meaningful changes.

From December, Ryanair customers will be able to carry a small second piece of hand luggage onto the plane – no more stashing bottles of duty-free whisky down trouser legs to get them on-board.

The fee for not printing off your boarding card before arriving at the airport has been slashed from an eye-watering 'I'll never fly with Ryanair again' £70 to a more palatable £15. The fee for putting a bag into the hold will go down to £30 per bag – an industry standard (this will start in January – presumably to cash in one last time on present bearing Christmas travellers.)

Customers hoping to hear that Ryanair's infernal triumphant 'on-time' jingle has been abolished will be disappointed to hear it remains – however – there will be special 'quiet flights' between the hours of 9pm and 8am in which the recording will not be played.

For the clumsy of finger, the airline is also adding a 24-hour grace period in which passengers can change their booking details in the advent of errors. How kind.

The changes were announced this afternoon ahead of the second of Michael O'Leary's #AskMOL Twitter chats. Before you ask, no his spelling hasn't improved and his pervy lechery hasn't been toned down.


But his answers were all good humoured.

Twitter seems to approve of the changes.