Ryanair fares well on rising fares
Ryanair's detractors now have another reason to gripe: the airline is sticking its fares up by 10%.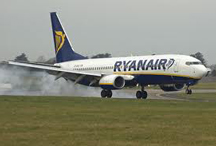 Ryanair reckons net profits for the rest of the year could be as high as €400m, rather than its previous projection of €375m, now that passengers are paying more to fly this winter than previously expected. This may prompt some added grumbles from passengers using the short-haul carrier, which seems to put customer satisfaction some way down the priority list – below such forward-thinking business staples as 'rinsing them for all we can'.
Indeed, the airline already dished out a 12% hike in average fares earlier this year, which helped first-half revenues increase by nearly a quarter to €2.18bn. How much of that came from charging passengers for the privilege of taking a bag on holiday with them, it didn't say.
Of course, boss Michael O'Leary can counter such sniping by pointing at the figures. With net profits for the first half up by 17% to €451.9m, his outfit remains one of the most consistently profitable in the industry. Just imagine what it'll be like if and when he manages to get his proposed pay toilets off the ground and into his planes – those figures will go sky-high.