Ryanair is finally selling its Aer Lingus stake to IAG
Looks like the UK Supreme Court didn't buy Michael O'Leary's claim Ryanair's human rights were 'violated'.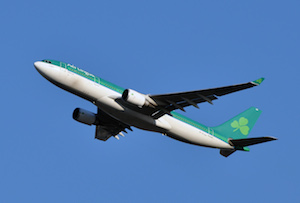 It's been three years of back and forth, appeal and counter-appeal, but Ryanair is finally selling its stake in Aer Lingus after a 'final order' from the competition authorities in June. That means British Airways owner IAG is approaching the final descent in its bid to buy the Irish flag carrier.
Ryanair's board unanimously approved IAG's €2.55-a-share bid for its 29.8% holding, signalling the beginning of the end of the saga that has seen the budget airline try to buy its older Irish rival three times since 2006, only to be thwarted at every turn by European and Irish authorities.
'We believe the IAG offer for Aer Lingus is a reasonable one in the current market and we plan to accept it, in the best interests of Ryanair shareholders,' chief executive Michael O'Leary said, in a disappointingly swearword-free statement. 'The price means that Ryanair will make a small profit on its investment in Aer Lingus over the past 9 years.'