Ryanair launches (yet another) bid for Aer Lingus
It's Ryanair's third bite at the cherry in six years. This time, the offer values Aer Lingus at just £560m, down from £1bn in 2006. Well, these are tough times...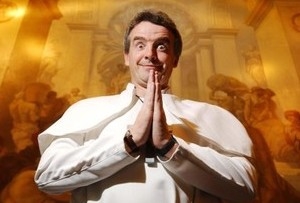 Ryanair put an all-cash offer of 1.30 euros a share on the table this morning, which marks a premium of 38.3% above Tuesday's Aer Lingus closing price of 94 cents. 'We believe that Ryanair offers Aer Lingus' long-suffering shareholders a real and meaningful return,' was the accompanying message from Ryanair boss Michael O'Leary. Hardly the best way to ingratiate yourself with the board, O'Really…

Unsurprisingly, Aer Lingus has sniffed at the bid, issuing a statement urging shareholders to take no action. The airline has dismissed Ryanair's tender asan 'unsolicited offer'.

Ryanair has been unsuccessful in bidding for Aer Lingus twice before, and its decision to try again is slightly bemusing. Its 2006 and 2008 punts were both rejected on the grounds that the acquisition would be 'anti-competitive' and, right now, the UK's Competition Commission is investigating Ryanair's existing 29.82% stock holding in the Irish airline. It's hardly a 'third time lucky' scenario.

But Ryanair argues that the trading environment for airlines has changed 'materially' since its last bids were rebuffed. 'Ryanair believes that as the air transport market in Europe inexorably consolidates into five large airlines/groups led by Air France, British Airways, easyJet, Lufthansa and Ryanair, the long-term future of Aer Lingus, its brand and its growth prospects can best be secured within one strong Irish airline group, led by Ryanair,' read its statement.
This sounds all rather altruistic, but in reality Aer Lingus is the itch that O'Leary cannot resist scratching. Its inefficient management offends his mercantile nature – that, and he can't resist trying to snag a bargain. And Aer Lingus may not be able to say no forever, although the board will certainly try.

Unsolicited or not, Aer Lingus has benefited from Ryanair's attentions. Its share price rose more than 20% this morning after the bid was submitted. And, despite the brush off, the bid has been good for Ryanair too. It's back in the headlines flexing its acquisition muscles. Which is probably the reason O'Leary made the bid in the first place…