Ryanair makes second pass at Aer Lingus takeover
Low-cost airline Ryanair has launched a Eu750m takeover bid for ailing Irish carrier Aer Lingus.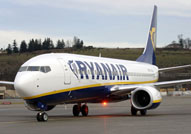 Ryanair is offering €1.40 per share in cash for the 70% of Aer Lingus that it doesn't already own, a 28% premium to the current share price that would value the carrier at almost €750m. Ryanair has already made one unsuccessful bid for the carrier, which is 25% owned by the Irish government, back in 1996 – but that was derailed by opposition from the competition regulators and the carrier's own employees. Given that Ryanair's offering only half as much money this time around, is it really likely to have any more luck?
The good news (well, in some respects) is that the aviation industry is in a very different state now to two years ago. After a period of soaring costs and slowing demand, many airlines have gone to the wall while others have been forced to consolidate – hence the proposed tie-ups between BA and Iberia, Lufthansa and BMI, and Alitalia with anyone who'll have it. Aer Lingus has suffered as much as anyone: fares are up, passenger numbers are down and it's expecting losses both this year and next.
So it's been a rotten two years for Aer Lingus, which has seen its share price plummet by two-thirds. As Ryanair boss Michael O'Leary put it with typical delicacy this morning: 'Aer Lingus, as a small, stand alone, regional airline has been marginalised and bypassed… Over the past 2 years, the management of Aer Lingus have failed its shareholders, customers and staff.' Indeed, Ryanair took the opportunity to put the boot into its rival's prices, fuel surcharges, on-time performance, director pay and industrial relations in its statement today. Not the most diplomatic of approaches, as you'd expect…