Ryanair outstrips the competition
A Ryanair charity calendar featuring members of the budget airline's cabin crew in various states of undress has apparently sold 7,000 copies in a fortnight. This may be testament to the charitable nature of Ryanair customers – but to be honest, we doubt it.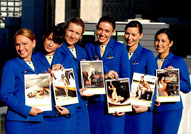 You may recall that we brought you news a couple of weeks ago about The Girls of Ryanair 2008, a calendar featuring the likes of Edita from Marseille, Jaraslova from Rome and Nicola from London draped seductively over various bits of aircraft. Not exactly progressive, but it seems to be effective, judging by the way the calendars have been flying off the shelves.
All proceeds from the calendar will go to the Angels Quest charity, a respite care provider for children with special needs. And with a price tag of £5, that means Ryanair has already racked up £35,000 in sales for the charity's coffers – which should be enough to buy about three items of duty-free on a Ryanair flight.
If nothing else, the calendar has provided Ryanair with a distraction from its favourite pastime these days: arguing with the rest of the aviation industry. On Friday, it sued the EU for the fifth time in the space of a month – it's claiming the regulator is refusing to clamp down on illegal state aid to operators like Lufthansa and Olympic. It's also been picking fights with the Dublin Airport Authority, Aer Lingus and easyJet, to name but a few.