Ryanair plays hardball with Boeing as profits soar
Ryanair threatens to abandon growth plans and return cash to shareholders. But is it just a tactic?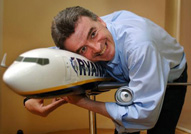 Is Ryanair really considering dropping a plan to buy 200 new planes from Boeing, and giving all the money to shareholders instead? That's what CEO Michael O'Leary claimed today, as he reported an 80% rise in first-half profits. Admittedly he's expecting the airline to slip into the red during the second half of the year, as he continues to slash fares; so there is an argument for a change of approach. But since this runs entirely contrary to Ryanair's strategy for the last 20 years, it's a bit hard to see it as anything other than a negotiating ploy to force Boeing's hand. And we wouldn't be surprised if it worked...

Ryanair did pretty well during the six months to September: although revenues slipped 2%, thanks to a 17% cut in average fares, passenger numbers jumped 15% and post-tax profits increased from €215m to €387m on the back of 'relentless cost discipline' (the mind boggles). At a time when all its major rivals are losing money hand over fist – BA is apparently set to unveil another £200m loss this week – that's an impressive number, particularly when you notice that its profit margin is a remarkable 22%. However, these figures have been flattered by the big drop in fuel prices; given the fall in yields (which O'Leary blamed partly on misguided 'tourist taxes' in Britain and Ireland), it's on course to make a loss in the current half-year.

But today's results were also notable for Ryanair cranking up the pressure on Boeing, with whom it's negotiating to buy 200 new planes between 2013 and 2016. O'Leary said there had been 'little progress' in their discussions, and suggested that if Boeing refused to 'play its part... by passing on some of the enormous savings' it has made in recent years, Ryanair would change tack: instead of planning for growth, it would focus on cash generation for shareholders instead. Since Ryanair has long been focused on growth – even in the last year, when it's been aggressively chasing market share via reduced fares – and has never paid a divi, this would be a major strategic departure, to say the least.

Hence our scepticism. We don't doubt O'Leary would go through with his threat (and not just because it would apparently be worth about £5m a year to him personally). But he knows perfectly well that there aren't many buyers in the market for planes at the moment – particularly ones that are increasing passenger numbers and have €2.5bn nestling in the bank. So the chances are that Boeing needs Ryanair more than vice-versa. We suspect this is just his way of reminding his opponent who holds all the cards - and we reckon Boeing is likely to fold before he does.

In today's bulletin:
Banking revolution looms as RBS admits extra disposals
Ryanair plays hardball with Boeing as profits soar
Council tax cuts a sign of Tory things to come?
Coffee shops buzzing despite recession
MT Expert's Ten Top Tips: How to profit from the Next Big Thing