Ryanair profits grounded - by $95 oil
Profits are up at the low cost airline, but aggressive hedging has left it unable to exploit the oil price collapse.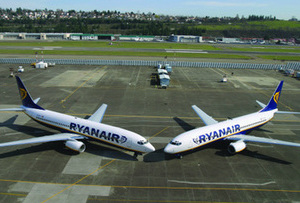 This is a good time to be in the airline industry. Oil's trading at rock bottom prices, while fears of another recession haven't spoiled the taste for travel. But not everyone's benefiting equally from cheap fuel.
Ryanair's revenues rose 17% to €1.1bn (£825m) over the three months to December 31st, helped by boss Michael O'Leary's cuddlier strategy and pursuit of business passengers. At the same time, its fuel costs fell slightly, helping it make a €49m profit, up from a €35m loss in the same period last year. It also revised its profit guidance upwards (again) for the full year ending in March to €840m-850m, from €810m-830m.
That might sound positive, but think what might have been had Ryanair not decided to hedge 90% of its oil purchases at $95 a barrel for this year and $92 a barrel next year. Much like the tragically sensible figure who decided to stop buying lottery tickets only for their numbers to come up the next week, Ryanair will be looking ruefully at the boost others are getting from $50 oil.