Ryanair slams BAA as protesters delay flights
Ryanair has had to cancel 52 flights today thanks to a protest at Stansted - and it blames BAA entirely...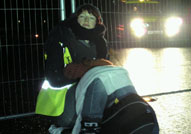 Protesters from a climate action group called Plane Stupid managed to infiltrate Stansted security at 3am this morning and chain themselves to railings in the airport taxiway. The police weren't able to shift them until 8am, which meant that 52 flights in and out of Stansted had to be cancelled – and unfortunately for airport operator BAA, they were all Ryanair flights. As the low-cost carrier faces up to a morning of delays and a plethora of refund requests, it's understandably livid about the hole this will leave in its pocket – and it blames BAA for the entire thing…
Ryanair apologised to passengers this morning for the 'unacceptable breach of security and management failure at BAA Stansted Airport,' which allowed more than 50 eco-warriors to wander into a secure area in the middle of the night – and then delay the opening of the runway for a full two hours. 'Ryanair will be calling for an investigation as to why the BAA Stansted security has once again failed to keep Stansted Airport secure and open to the travelling public,' it huffed today. 'It is unacceptable that the travel plans of thousands of passengers have been disrupted because BAA Stansted security have failed to remove a number of protesters.'
Plane Stupid said its 'peaceful protest' was intended to draw attention to the environmental impact of the aviation industry. It even expressed remorse for the inconvenience it had caused; one of its activists told the BBC that she was 'incredibly apologetic' that passengers had been affected, but insisted that 'the effects of climate change are going to be monumental'. Perhaps they'd read the piece in today's Guardian by Ed Milliband, the Environment Secretary, which called for a 'popular mobilisation' to force governments into action on climate change. Wonder if this is the kind of thing he had in mind?