Ryanair to squeeze more cash out of bookings
If you thought Michael O'Leary had run out of ingenious ways to his customers pockets', think again...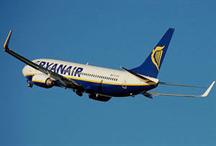 The low-cost airline that once proposed charging passengers a quid to use the loo is at it again: this time it's adding a £6 online booking fee and some extra charges to the card you book with.
Pretty soon, customers will have to pay a 2% charge on any transactions made with a credit card, and the £6 fee will go towards the 'running costs' of Ryanair's website.
The Irish carrier said that it is introducing the fees in order to comply with new rules from the Office of Fair Trading, but the OFT told the Evening Standard: 'We have not required any airline to introduce new payment charges, increase their credit card charges, or scrap any discounts they wish to offer.' Go figure.