Ryanair: On a wing and a toilet
Ryanair plans to leave only one lavatory on each aircraft. Which gives new meaning to its passengers not feeling flush...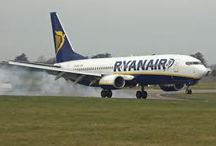 The budget airline has always been famous for its cut-throat approach to cost-cutting, but its latest ruse is literally taking the piss. The idea is to remove two of its loos and replace them with up to six extra seats. CEO Michael O'Leary has justified this by claiming bathroom facilities were 'very rarely' all used. Indeed, he's already tried removing the co-pilot to free up a seat, so why would he balk that this?

The proposals would leave up to 200 passengers and six crew members sharing one bathroom throughout a flight – which could be up to 4.5 hours if you're heading to Rhodes. Bad for the bladder but, says Ryanair, it'd shave £2 off a £40 ticket. We don't know anyone who'd be happy to soil themselves to be able to buy half a pint, although Ryanair does cater heavily to stag do's, so you never know.

You have to admire Ryanair's dogged ingenuity in the fight against high fuel prices. This latest plan comes after it dropped its idea of making passengers pay to use the toilet, or even changing the aircraft layout so people could stand. Then there's Ryanair's new Cash Passport, the only way to avoid paying a booking fee, where passengers are charged a premium if they don't use it every month.
We can only imagine what goes on in planning meetings. Presumably they'll soon be building on the priority boarding model by charging extra to be first in the queue for the jon. The idea of in-flight commodes was probably scuppered simply because a hole in the aircraft floor would cost too much to maintain.

The airline carries an estimated 75m passengers per year, and currently flies only Boeing 737-800. Ryanair has installed 189 seats on each plane, the maximum allowed under current rules. There is, however, no legal stipulation for an airline to provide toilets on its aircraft.

And while Ryanair is preventing punters from squeezing one out at one end, it's simultaneously doing the squeezing at the other: charging up to £20 per piece of checked luggage per flight. The Office of Fair Trading is investigating a 'super-complaint' by the Consumers' Association into such charges by low-cost airlines.

Of course, Ryanair may not be considered a low-cost airline for that much longer. If it takes its approach to no-frills flight to its logical conclusion, it may soon just be an enormous catapult flinging stag parties at Riga…