Ryanair's cuddly strategy flies in fourth profit forecast boost this year
The budget airline's forecasts are choppier than a bout of mid-air turbulence.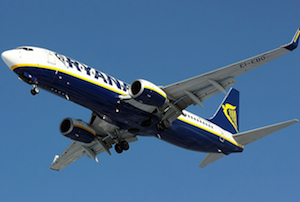 It looks like 2013 may be no more than a bad memory now for Ryanair, as the Irish budget airline flew in the fourth boost to its profits forecast this year, having ditched its strategy of slagging off customers while milking them for all they're worth for a decidedly cuddlier approach.

It now expects profits for the year to March 31st 2015 to be €810m-€830m (£636m-£651m), compared to its previous estimate of €750m-€770m. Back in April, it told investors to pencil in €580-€620m, after 2013/14 profits fell 8% to €523m.

The airline, led by outspoken chief executive Michael O'Leary, also said passenger numbers in November were up 22% on last year to 6.35 million, while load factor (i.e. how full planes are) rose 7% to 88%.

Last autumn, the company shocked the market with two profit warnings and O'Leary took a vow of silence (not that it lasted very long), as it admitted bitter budget rival EasyJet had stolen a march on it with truly revolutionary policies such as letting customers choose their seats before they board.

A little more than a year later, and increasing hold baggage allowance and making its website a tad less money-grabbing seems to have worked wonders for Ryanair. Investors agreed too, with shares were up more than 8% to €9.44 in mid-morning trading in Dublin. MT is hoping budget airlines are in a race for the skies now – champagne in cattle class anyone?