Ryanair's naked ambition
Ryanair boss Michael O'Leary has revealed his latest wheeze to squeeze a bit more cash out of his customers, with the launch of a new Ryanair calendar – though this time the proceeds will go to charity, rather than straight to his bottom line.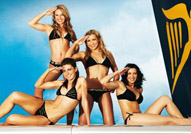 Twelve lovely ladies from the Ryanair cabin crew have been persuaded to 'strip down to their bare essentials' for the new calendar, which will be on sale on Ryanair flights from this Saturday.
Our immediate reaction was to wonder whether O'Leary was trying to encourage his cabin crew to wear clothes less regularly, in order to save 'wear and tear' costs. But apparently the plan is to raise money for children's charity Angels Quest. So although it may sound like the kind of exploitative misogynist stunt that would antagonise feminists everywhere, it's really all in a good cause.
You might have thought that Ryanair would be shying away from scantily-clad lovelies for a while. Last week it got its knuckles rapped by the Irish Advertising Standards Authority after using a model dressed as a schoolgirl to advertise cheap flights in the school term-time. 'The recent Ryanair ad depicted the sexualisation of a young woman, purely for commercial purposes… [It] displays an obvious disrespect for young girls and women,' ranted one women's leader. Nice to see it's learned its lesson, then…