Ryanair's share price has risen as the airline predicts rising profits
Profits are down for the first time in five years, but investors like the budget carrier's bullish forecast.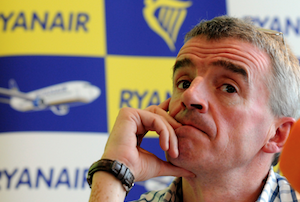 Ryanair knows how to make bad news easier to swallow – tell everyone it's going to get better sharpish. The budget airline reported annual profits had fallen for the first time in five years, but predicted they would bounce back next year, sending the Dublin-listed shares up more than 5% to €6.69 this morning.

Post-tax profits fell 8% to €523m (£426m) in the year to March 31, which the company attributed to a 4% fall in fares, higher fuel costs and a weaker pound (always nice to be able to blame things that are out of your control). The fall came despite a 3% rise in revenue and passenger numbers to €5bn and 81.7m respectively.

However, Europe's largest low-cost airline is hanging its hat on being nice (copying rival EasyJet's, ahem, revolutionary policies such as letting people choose their seats before they board), after outspoken chief exec Michael O'Leary took a not-so-strict vow of silence last November.

The company is forecasting post-tax profits will rebound to between €580m and €620m next year, which includes traffic rising by 4% and fares edging up 2%. They did, however, warn that that figure will depend heavily on second half results (i.e. Winter, when fewer people go on holiday) 'over which we currently have zero visibility'. Investors didn't seem to mind that decidedly foggy element to the forecast though.

MT, for its part, does mind that O'Leary seems to have been fully inducted into the boring world of business speak. 'While disappointing that profits fell… we reacted quickly to this weaker environment last September by lowering fares and improving our customer experience.' Yawn.