Ryanair's traffic is soaring
The budget airline has figured out being nice to customers really does pay.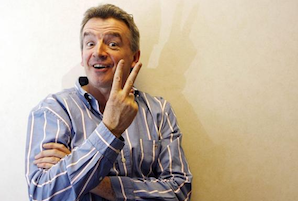 Ryanair, which likes to style itself as 'Europe's favourite airline' (as opposed to 'a deeply unpleasant experience you suck up for the low fares'), is reaping the rewards of its 'be nice to customers' strategy, with passenger numbers soaring 28% in March.
The Irish no-frills airline carried 6.67 million customers last month, up from 5.2 million the previous year. Its load factor (how full planes are) also gained altitude, up from 80% to 90%.
The good news sent Ryanair's share price climbing too, up 1.75% in early trading to more than €11 (£8). In the last year, Ryanair's shares have soared more than 43%, as profits and passengers keep on rising.