S&N picks a fight over Carlsberg bid
The battle for Scottish & Newcastle has started in earnest – and not surprisingly, the major skirmish looks likely to be fought on the eastern front.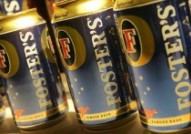 When Carlsberg revealed last week that it was planning to team up with Heineken to launch a £7bn break-up bid for Britain's biggest listed brewer, it seemed to think their approach would be well received. Instead, S&N reacted as furiously as a man in the pub who's just had his pint of Foster's knocked over, describing the move as 'unsolicited and unwelcome'.
Now it is trying to up the ante. The brewer said yesterday that it plans to sue Carlsberg for breaching an agreement over Baltic Beverages Holdings, their hugely successful Russian joint venture, which Carlsberg is desperate to have all to itself. If it was found to be in breach, Carlsberg would then have to sell its 50% stake, either to S&N or someone else. It's the corporate equivalent of asking the Danish company to step outside.
And that's not all Carlsberg has to worry about. S&N could also get its mates involved, by using the prospect of this lucrative half-share as a way to lure others into the fight, like South Africa's SABMiller. And if BBH was taken out of the equation – given that it's already become both companies' biggest profit driver – there's a good chance the Carlsberg/ Heineken bid might not happen at all.