S&N plays hard to get
The great beer battle looks as though it could be turning bitter. European brewing giants Carlsberg and Heineken are going to take their £7.3bn bid for Scottish & Newcastle direct to shareholders, after their UK rival knocked back their new and improved offer.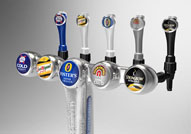 Carlsberg and Heineken had been all smiles when it submitted its initial 720p-a-share offer last month – even though S&N quickly dismissed it as 'derisory'. Now they've come back with a higher offer at 750p-a share, and received an equally abrupt response – this time S&N described the proposal as 'wholly inadequate'. Clearly it didn't think that this was probably the best takeover bid in the world.
And its two suitors are starting to lose their icy Scandinavian cool. They quickly fired back a terse statement expressing their displeasure at S&N's attitude, with Heineken boss Jean-Francois van Boxmeer and Carlsberg counterpart Jorgen Buhl Rasmussen both urging S&N shareholders to get involved. As the latter huffily put it today: 'We find the board's intransigence and ill-informed rejection very disappointing. The time has come for S&N shareholders to direct their Board to engage with us.'
The real bone of contention is BBH, the lucrative Russian joint venture between Carlsberg and S&N that's been making money like there's no tomorrow. Carlsberg wants it all to itself, but S&N claims that its partner is under-valuing the business. And if it wins the court case it has brought against Carlsberg for breach of contract, it could force the Danish giant to sell its half of BBH. So it's unlikely to roll over until that's resolved.