S&P downgrades Goldman Sachs, RBS and HSBC
Standard & Poor's today downgraded 15 major banks in a wholesale ratings sweep.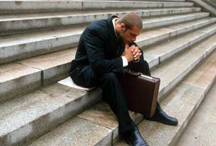 The overhaul is part of the agency's drive to 'improve products' and repair its reputation. At the expense of the banks', obviously.
Ratings agencies are like funeral directors. They always come with bad news. Early this morning Standard and Poor's, donning metaphorical mourning wear, presided over the demise of the A-1 and A-1+ ratings of Bank of America, Merrill Lynch. Citibank, HBOS, Morgan Stanley, Goldman Sachs, RBS, HSBC and Barclays among others.
The downgrades couldn't come at a worse time. The arteries of credit in the global financial system are already clotted and a lower rating spells higher interest rates on borrowing and yet another dip in investor confidence. Way to go, S&P.