A sad love letter to the Iron Lady
While Mrs Thatcher's PR supremo can't quite shake off his old dissembling habits, a mixture of hero worship, scorn and vulnerability makes for an enjoyable read, says Robert Phillips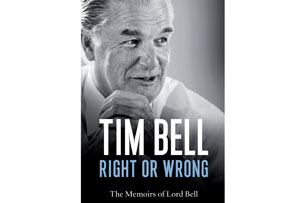 This could have been a great media memoir – stripping bare the advertising and PR world, as Anthony Bourdain's Kitchen Confidential did with restaurants and chefs. But there is little sex, drugs and rock 'n' roll. Instead, Tim Bell offers us a sad love story.
Editors Hopper and Vallance treat the man gently and respectfully. It is a calm, enjoyable read, meandering through the bigger political characters and frontline events of the day (the miners' strike, the Falklands, the Brighton bomb, Wapping, several elections and the end of apartheid). Tim Bell was a front-row observer, though never with the intimate, crafting genius that Alastair Campbell enjoyed with Tony Blair. Right or Wrong is no Campbell diary; there is wistfulness about Bell, a frustrated politician, who maybe wishes it was.
'This is not a confessional,' Bell muses. 'I don't want to dredge up some of the more unacceptable things I was doing.' He leaves the reader wondering about the gaps – people and stories - and whether they have been omitted for personal, legal or therapeutic reasons. Having survived cancer, this book is often Bell's catharsis.