Sage CEO Stephen Kelly is on a mission to make some noise
LONG READ: There'll be no more hiding of Sage's light under a bushel, says the accounts software outfit's high-energy boss.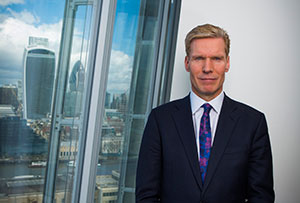 If you want to make a statement, there are few better places to hang out your shingle than The Shard, the biggest and blingiest of the capital's many new skyscraping megastructures. And sure enough it is here that Sage's London office is to be found, looking out across the Thames to the financial powerhouse of the City.
It may seem an unlikely spot for a quietly spoken software firm specialising in SME accounts packages and firmly rooted in the north-east (its HQ remains in Newcastle). But Sage's boss, Stephen Kelly, is on a mission to get the firm, the largest of only two tech stocks in the FTSE 100, noticed. 'We have twice the revenues of a company like ARM,' he says, pointedly referencing the other, rather better known, one. 'We employ 2,000 engineers and 54% of UK businesses pay their wages with Sage products. We're market leaders in France, South Africa, Ireland, Canada and Spain as well as the UK. But we have underpunched our weight, we are the UK's best kept tech secret.'
And so Kelly, who despite being born in Folkestone, has spent much of his career in the brasher culture of the US, thinks it's time for Sage - purveyor of accounting and payroll software to three million or so SMEs globally - to stand tall and make a bit more noise. So last August it moved into The Shard, albeit 'only' on the 17th of 72 habitable floors. Kelly splits his time between there, Newcastle and foreign trips. 'We're like the people we serve, entrepreneurs who work their socks off building their businesses. They just get on with it and you hardly ever hear from them.'