Sainsbury bucks trend with sales hike
Despite some gloomy predictions, Sainsbury's latest results show that it's still pulling in the punters...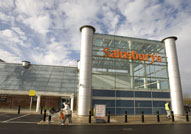 It was another sterling performance from Sainsbury's last quarter: the supermarket chain recorded a like-for-like sales increase of 4.3% (rising to 8.4% if you take new retail space and fuel into account). Despite claims that its competitive position is under threat from value retailers at one end and the higher-end grocers at the other, Sainsbury's actually still seems to be doing pretty well – transaction numbers were up, and sales were at the top end of City forecasts. Looks like another feather in the cap for CEO Justin King, the architect of its recent revival...
In fact, King argued that Sainsbury's is better equipped to cope with the competitive pressures than most, suggesting that its 'universal offer is meeting our customers' expectations for great quality and excellent value'. At the lower end – where Aldi and Lidl are currently flourishing – the supermarket has its well-established 'Basics' range, recently expanded to 500 products, and has been encouraging its shoppers to switch to own-brand products. The 'Feed your Family for a Fiver' campaign led by the ever-loveable Jamie Oliver also seems to be going down well. However, customers seeking a special treat can also trade up to the premium 'Taste the Difference' range.

The bad news for King, however, is that his share price has still taken a hammering today –
it's currently down about 5%, but it fell by as much as 18% at one point. This was partly because of King's warning about the current trading environment, which he said 'remains particularly challenging' – analysts are worried that this will be as good as it gets for the retailer, with tougher times ahead. (TNS research data suggests it's been losing market share already, although there's no sign of it affecting results yet).
But it's also been hurt by two news stories out this morning: a Telegraph piece suggesting that chairman Philip Hampton will be moving to chair RBS as part of the Government's new bail-out scheme (which could also see CEO Fred 'the Shred' Goodwin put out to pasture), and more significantly, the FT story that Robert Tchenguiz has been forced by backers Kaupthing (which, as an Icelandic bank, isn't very well at the moment) to sell his 25% stake in pub group Mitchells & Butlers. Rumours suggest that he's now in the process of dumping his 10% stake in Sainsbury's too, which has sent the share price plunging.