Sainsbury: making the deal taste better
The fate of FTSE-listed Sainsbury could well be decided this week, as its Qatari suitors decide whether to throw more money at the deal in an attempt to push it through.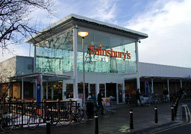 Delta Two, the Qatar-backed fund looking to take the supermarket chain private, has got until next Thursday to submit a bid, after the Takeover Panel issued a 'put up or shut up' deadline. The problem is that it needs to find another £500m from somewhere to finance its offer, and barring any fortunate discoveries down the back of the sofa, that means it needs more money from its Qatari sponsors.
A few months ago, Delta Two would have had banks queuing up to lend it the extra £500m. But since they've had their fingers burned by the credit crunch, the blank cheques have been a lot less forthcoming. Now Delta Two needs to load more equity into its bid to have any hope of persuading the Sainsbury family to approve the deal.
Indeed, it's been a pretty awful time to launch the UK's biggest ever retail take-private. Not only have the global credit markets virtually ground to a halt, the retail sector has also nose-dived – even the biggest chains have taken a hammering thanks to the terrible UK weather.