Sainsbury profits from rivals' misfortunes
Sainsbury's continues to beat expectations: another set of strong results suggests it's winning the sales war...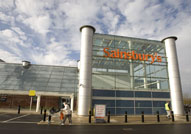 Sainsbury reported another impressive set of half-year results today, as it continues to confound the sceptics who thought it might get squeezed out in a downturn. The supermarket chain said total sales were up 7.6% to nearly £11bn in the six months to October 4, pushing pre-tax profits up to £272m – a 13.3% increase on last year, and right at the top end of forecasts. Better still, like-for-like sales (which strips out new openings and so on) were up 3.9% on last year, which is better than most of its rivals. So it's clearly tempting customers away from the likes of M&S and Waitrose…
CEO Justin King ascribed Sainsbury's success to its 'universal customer appeal': in other words, the supermarket is trying to cater for a range of different budgets, from its cheap-and-cheerful Basics range to the higher-end 'Taste the Difference' stuff. The idea is that customers can economise in some areas and keep spending on others – all under the same roof. 'Customers are now buying a different mix of products and we have successfully developed our offer to help offset the rising cost of living and tighter household budgets,' King said today. And judging by the fact that Sainsbury's is now doing 18m transactions a week, he appears to be right.
Indeed, King's 'Making Sainsbury's Great Again' recovery plan continues to impress: the company has now delivered 15 consecutive quarters of sales growth. The prevailing wisdom was that mid-market retailers like Sainsbury's would get squeezed from both sides in a spending slowdown – but according to market researchers TNS, it's actually maintaining market share despite the aggressive expansion of discount stores like Aldi and Lidl. And sales growth of 3.9% is actually better than Tesco managed in the first half.