Sainsbury sounds cautious note as sales growth slows
A 5% sales jump is not to be sniffed at, but Sainsbury's Justin King says times are still tough.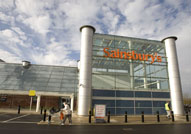 Sainsbury's second-quarter results, released today, look pretty positive: a 4.6% rise in like-for-like sales (or 5.4% if you strip out fuel and the VAT change) is an impressive showing by the standards of most retailers. However, it's still a come-down from its first-quarter growth – and with Tesco resurgent, food prices static and more economic shocks still to come, it's perhaps no wonder that CEO Justin King was sounding cautious about the supermarket chain's prospects for the coming months.

All in all, it's been another good quarter for King and Sainsbury's, given the 'challenging customer environment'. It's now putting 18.5m transactions through its tills every week, while its (belated) online service saw sales rise 20%. Non-food - particularly its TU clothing range - is now growing at three times the rate of food. And it opened 12 new convenience stores and 19 new supermarkets (including 14 old Somerfields or Co-ops) during the three month period, funded in part by the £432m it raised from a share placing back in July. At this rate, it reckons it will create 10,000 jobs in the next two years. So it's having a pretty good recession, as shown by the fact it won 'Supermarket of the Year' at this year's Retail Industry's Awards.
However, glass-half empty types will point out that its pace of growth has slowed in the last three months – and according to King, it's likely to slow even further in the next few months. This is partly due to stiffer competition: market researcher Nielsen claims that Tesco has been outperforming Sainsbury since the launch of its new Clubcard recently. It's partly due to the economic climate: King told the BBC today that there were 'still some big shocks to come', notably the increase of VAT and rising unemployment (perhaps he's a believer in the W-shaped recession, like HSBC boss Michael Geoghegan). But the biggest factor is probably lower price inflation; after years of continuous rises, food prices are now pretty flat, which will affect all the supermarkets.

Still, the important point is that Sainsbury's is still growing, while King continues to burnish his reputation (he was fending off questions about the M&S top job again today). And although flat food prices might be bad for its top line, it's good news for the rest of us this Christmas...

In today's bulletin:
BA bruiser Walsh picks fight with unions over job cuts
Amazon Kindle is coming to Britain
Sainsbury sounds cautious note as sales growth slows
Honesty is the worst policy for financial results
Route to the top: Six ways to swallow your pride