Sainsbury's Christmas cheer as customers taste the difference
With customer spend on the up, Sainsbury's Justin King is gearing up for a bumper Christmas.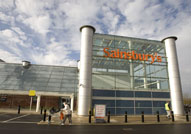 Despite customers continuing to count the pennies and snap up promotional offers, it seems they are planning to loosen the purse strings over the festive period – or so says Sainsbury's chief exec Justin King. The supermarket released its half year figures today, and the company still seems in fine fettle: profits were up by 19% to £307m, buoyed by sales of the company's Basics range and the success of promotions like its popular 'Feed your family for a fiver' campaign. But with Sainsbury so optimistic about Christmas that it's currently putting in large orders for top-of-the-range poultry, let's hope the festive season does turn out to be a cracker – or King may be left feeling like a bit of a turkey.

Sainsbury's well-regarded CEO (who, rather extraordinarily, has just been named by Esquire magazine as the UK's most influential business thinker) still has plenty to smile about: like-for-like sales were up nearly 6% during the period, which is not to be sniffed at. And it seems that the group's strategy of growing sales of its non-food products like clothes and CDs has been paying off – helped in no small part by the demise of smaller retailers like Woolies and music shop Zavvi. King's prediction that people will spend more cash at Christmas doesn't sound too far-fetched either, given that today's figures show that his customers are already spending more money per shop: he told the BBC today that this was boosting sales of higher value items like its premium 'Taste the Difference' range.

But King can't rest on his laurels just yet. One of the reasons Sainsbury's did so well in the early part of the recession was that it managed to take market share from giant rival Tesco – but the latest market share figures suggest the latter is starting to claw back some of its losses. Meanwhile Asda and Morrisons also seem to be firing on all cylinders, judging by their recent sales figures, so they might also have something to say about Sainsbury's growth plans.

In fact, with competition hotting up in the run-up to Christmas, there's already talk of an impending price war, as the supermarkets compete for a slice of the all-important Christmas pie (or should that be pudding?). And while this might not be good for King and Sainsbury's – slashing margins to keep up with its rivals would inevitably hurt profits – it'd certainly be good news for the rest of us. Cut-price mince pies, anyone?

In today's bulletin:
Unemployment figures give hope for 2010 - or do they?
Sainsbury's Christmas cheer as customers taste the difference
Bad bosses driving away staff?
MT wins BSME award for fifth time in nine years
The Parent Project: Working with morning sickness