Sainsbury's customer berated for using phone near checkout
It is irritating as hell when someone in the queue is bellowing into a mobile phone, and a member of Sainsbury's staff has had enough of it, refusing to serve a customer until they hung up. Apparently Nick Clegg is on the assistant's side...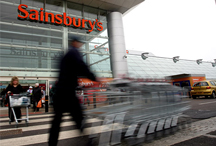 It's the sort of moment that everyone wants to witness first-hand – the rude customer on the mobile phone getting a dressing down in front of everyone, and forced to hang up the call. Well that's exactly what happened to Jo Clarke, 26 year old customer in the Sainsbury's branch in Crayford, south east London.
She was doing her mid-week shop, arrived at the checkout to pay for her shopping (whilst on a call), and was promptly told 'I will not check your shopping out until you get off your mobile phone.'
Clarke, who has since managed to wangle herself plenty of airtime with media outlets, says: 'I was standing at the foot of the till waiting to bag my shopping up, yet the lady on the checkout was just staring at me, when I stopped my conversation and said: 'Is everything OK?''