Could Sainsbury's fall victim to activist investors?
Crystal Amber is said to be sniffing around Sainsbury's for its property portfolio, as the big four supermarkets continue to weaken.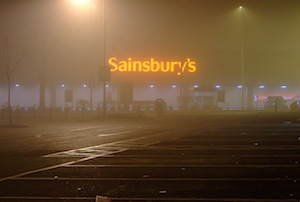 The supermarket giant Sainsbury's is being targeted by Crystal Amber, an activist hedge fund, according to the Sunday Telegraph. That might not sound so bad to the uninitiated but, unfortunately for Sainsbury's, 'activist hedge funds' aren't in fact filled with long-haired investment bankers with peace symbols drawn in biro on their hands, backing hemp farm communes and independent coffee shops.
Crystal Amber is reportedly looking to 'flush out' a bid for Sainsbury's that will increase shareholder value. Essentially, Sainsbury's assets have retained their value (£9.6bn in property alone) while its market capitalisation has tumbled from around £10bn before the crash to a veritably lightweight £4.6bn now. This means that if a fund were to take control of the company, it could sell those assets and 'return' the surplus money to shareholders (who now of course include the new investors) for a tidy profit.
For Sainsbury's itself, which is in the trenches after reporting a £290m loss and admitting a quarter of its stores weren't performing properly, this could hardly come at a worse time.