Sainsbury's feels the squeeze from all sides?
A report claims that Sainsbury's is losing customers to rivals at both ends of the price spectrum.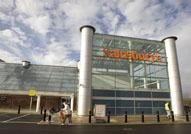 So far in the downturn Sainsbury's has been proving the naysayers wrong – but is the tide turning? It may have reported bumper profits last week, but according to the Times, new 'customer switching' data from market research company TNS Worldpanel suggests that shoppers are starting to desert Sainsbury's in favour of its rivals for the first time in the recession - to the tune of about £11m in the last three months. And the slightly worrying thing is that it's not just the cheaper supermarkets that are supposedly benefiting – £4m of this went through the tills of Waitrose instead. In light of the news, investors – who are currently being tapped for over £400m – could be forgiven for getting slightly cold feet about the supermarket chain's aggressive expansion plans…

When the recession started, Sainsbury's mid-market positioning prompted fears that it would be squeezed out at both ends – the idea being that the real bargain-hunters would decamp to Aldi, Lidl or Netto, while the determinedly high-end shoppers would opt for the pricier charms of M&S or Waitrose instead. So far this hasn't really happened, but this data suggests the prediction could finally be coming true. Customers appear to be ditching Sainsbury's at both ends of the value spectrum; of the £11m now being spent elsewhere, £2m has gone to Tesco, £2.5m to Aldi and £4m to Waitrose (further proof of its recent resurgence).

But let's not carried away here. While losing business may not be much fun for chief exec Justin King, the UK's third biggest supermarket continues to grow faster than the overall market, so it's still taking custom from somewhere. Its recent 5.6% sales hike outstripped the market average of 4.4%, and it apparently pinched £750,000 from rival Asda in the process. In fact, last week's results showed a company in pretty rude health. Profits have grown 19% in the last six months, thanks in part to its cheapo Basics range - evidence that the bargain-hunting shopper hasn't deserted it altogether. So it's hardly a basket case (boom boom).

On the other hand, these figures do make King's ambitious expansion plans (he's just announced a £2bn push into the North of England) seem - well, ambitious. Despite speaking of a 'challenging environment' last week, King plans to add to the Sainsbury's estate by at least 5%. That's pretty bullish at the best of times, but particularly when rivals may be eating into your market share...

In today's bulletin:
Sainsbury's feels the squeeze from all sides?
I'll drink to that - Majestic toasts new strategy
Life not getting any easier for UK SMEs
The Parent Project: Do working mums get too easy a ride?
MT Expert's Ten Top Tips: Keep your IT systems secure