Sainsbury's launches WWI Christmas ad offensive
The advert shows the touching First World War Christmas truce with the Germans. A subtle hint for Aldi and Lidl?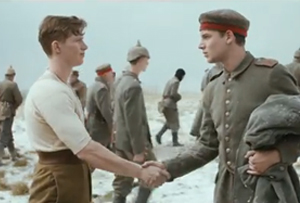 The barrage of Christmas adverts keeps creeping earlier into November, a month with nothing whatsoever to do with Christmas. Last night, Sainsbury's invaded the break in Coronation Street with its cinematic portrayal of the Christmas Day truce in 1914.
The ad, 'Christmas is for Sharing', begins with British and German troops singing Silent Night together from the trenches on a grim Christmas Eve. The next morning, two remarkably clean soldiers, Jim and Otto, brave no man's land to shake hands. The friendliest game of football ever between the two countries ensues, before both sides retreat after the guns begin to fire again.