Sainsbury's in the lead as supermarkets battle for the festive pound
The grocer's Christmas cat advert seems to have done the trick.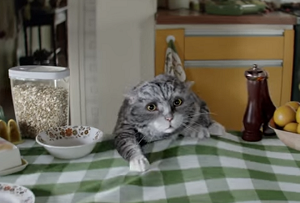 There's no doubt that Sainsbury's, like most other grocers, has big problems to contend with. New low-price competitors and a general fall in the price of food, along with the ever-changing habits of fickle customers, have made it exceptionally hard for a big supermarket to make any money this year.
But as the nation's consumers gear up to do their annual Christmas food shop, Mike Coupe's lot look to be a nose ahead. According to figures from Kantar Worldpanel, Sainsbury's sales in the 12 weeks to December 6 (a period that includes 'Black Friday') were up 1.2% - not exactly runaway growth, but a decent performance considering how dire things are looking for everybody else.