Sainsbury's profits rise thanks to 'savvy shoppers', market share increases
Customers turning to Sainsbury's to take advantage of its money-off vouchers have helped sales and profits to notch up in the first half of its financial year.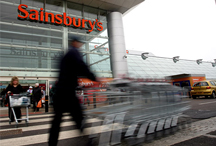 Britain's third-largest supermarket has posted pre-tax profits of £405m, a 2.5% rise on the £395m reported in the same period the year before. The like-for-likes were slightly lower at 1.7%, but the 'Brand Match' money-off campaign that the supermarket has been pushing looks to be yielding some results in a tough market. The chain said in a statement that 'savvy shopping' from customers meant they were buying one fewer item per shopping trip over the period – obviously they have gained customers off the back of the vouchers.
So how exactly does the Brand Match campaign work? Well, it makes sure that customers do not have to pay more for branded items at Sainsbury's than they do anywhere else. Sainsbury's checks 14,000 different items at other supermarkets and compares prices with its own. If something can be bought cheaper elsewhere in the marketplace, then Sainsbury's provides a voucher for the difference. It has issued 250 million of such vouchers since they launched a year ago, and its share of the grocery market has risen to 16.8% - it's highest in nearly a decade.
Pointing out that the figures mark the chain's 31st consecutive quarter of like-for-like sales growth, chief executive Justin King said: 'Whilst the wider economic situation remains challenging, we are well positioned to help our customers Live Well For Less. Our long-standing consistent strategy, combined with our customer insight and strong value-driven culture, will continue to deliver for customers, colleagues and shareholders.'