Sainsbury's purrfect Christmas advert
The supermarket went for humour instead of heartstrings - and got it just right.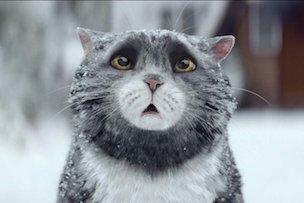 Christmas is coming (no matter how much some MTers wish it wasn't) and the season of festive ads is well underway. John Lewis resumed its annual heartstring strumming last week with its Man on the Moon. This week it was Sainsbury's turn.
The supermarket almost pulled the rug from under the department store last year with its tear jerking yet controversial First World War-themed ad. This year it has wrecked its entire house, thanks to its resurrection of Mog the Cat in partnership with the feline's much-loved creator, children's author Judith Kerr.