Sainsbury's sales have slipped, but things could be much worse
The orange grocer is holding up OK. Will Christmas bring supermarket cheer?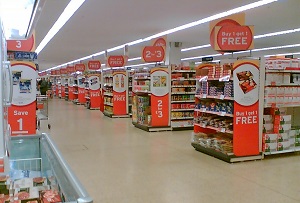 The middle ground in Britain's grocery market isn't an easy place to be at the moment. The old giants with massive chains of large stores face big challenges as customers turn to new discount supermarkets or more upmarket food shops like M&S. Many are foregoing their old weekly shop and buying food more frequently from convenience stores, which doesn't help either.
Against that difficult backdrop, Sainsbury's isn't doing totally awful. Yes, revenues are down. Its interim results, out this morning, show group sales down 2% to £12.7m and retail sales down 2.1% on a like-for-like basis in the 28 weeks to September 26. Profitability was squeezed too – the chain's underlying operating margin was down 39 basis points to 2.71.
But things really could be a lot worse. It posted a statutory profit of £339m million after a loss of £290m at the same time last year (although underlying profits were down 17.9%) and its convenience stores are doing particularly well, with sales up 11%. Its market share is down, but only 'marginally' by 17 basis points. Its shares were up by about 2% this morning to 277.9p.