Sainsbury's storms the supermarket charts
The supermarket has reported a 9% rise in half-year profits.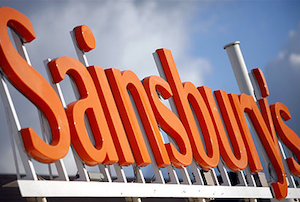 There was a time when Tesco's lead in the great supermarket race seemed unassailable but Sainsbury's' latest performance has trounced that of its biggest rival and pushed it ahead of ASDA as Britain's second largest supermarket (based on sales).

Sainsbury's has announced a 9.1% rise in pre-tax profits in the six months to 28 September up to £400m and a 4.4% rise in sales – up to almost £14m – beating analysts expectations and leaving its rivals in the dust.

By comparison, at the start of October, Tesco revealed a 8.4% fall in pre-tax profits in the first half and earlier this week Morrison's reported a 2.4% drop in sales. Sainsbury's is blowing raspberries at both of them.

'Our share of the grocery market is the highest for a decade at 16.8 per cent following 35 consecutive quarters of like-for-like sales growth,' said chief executive Justin King.

Online sales were up 15% and sales in Sainsbury's Local convenience stores were up by 20% - a particular kick in the nads for Morrisons – which is has admitted it's been too slow to service both of these markets.

Sainsbury's own-brand ranges have also performed particularly well, the By Sainsbury's and Taste the Difference ranges are outselling branded products two to one.

The results are certainly one way to forget about last week's scuffle with the Advertising Standards Authority over its ruling on Tesco's price comparison ads.

Despite his obvious success, King was quick to warn of the continuing squeeze on public purses.

'Whilst customers' budgets remain tight and any recovery in the economy may take time to take effect, our consistent strategy and strong values-driven culture mean we are well placed to continue to deliver for customers, colleagues and shareholders.'

The supermarket will top off today's good results by launching its Christmas marketing campaign (during the Coronation St ad break this evening, for all of you avid schmaltz fans). Like many a retailer, the supermarket has tried to create something memorable this year, using a set of clips from a 50 minute documentary it commissioned – telling the story of Christmas Day in Britain. The documentary is by Last King of Scotland director Kevin Macdonald - the clips will run for a week before the supermarket starts showing its more traditional Christmas food ads.

The supermarket's share price has risen 3% already this morning, MT expects this to rise again once the new ad campaign hits the small box this evening – there's nothing quite like a few dancing grannies in Christmas cracker hats to give your share price a lift.