Sajid Javid wants to cut £10bn of red tape
The Government failed to actually cut regulation last parliament - and it'll be hard-pushed to do so this time round.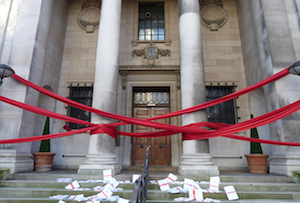 Sajid Javid is getting into his new job as business secretary with decidedly more enthusiasm than he tackled culture. Last week he said he'd be taking 'a fresh look at deregulation' and, lo, he is now promising that by 2020 he will slash red tape currently costing businesses £10bn a year.
'We will sweep away burdensome red tape, get heavy handed regulators off firms' backs,' the former Deutsche banker will say in his first speech as business secretary later today in Bristol, where he grew up.
The avowed Thatcherite and free marketeer is also going to make plenty of reference to his childhood to bolster his case that he is on small business's side. '[My parents] came to this country in 1964 with dreams of a better life. My dad started off working in a cotton mill. Then he drove buses. And, at weekends, ran a clothing stall at the local market,' he will say. 'It instilled in me an unwavering belief in enterprise, opportunity and reward.'