Sales slide is no small beer
UK beer sales fell 7% last quarter. It looks like we're too skint even to drown our sorrows...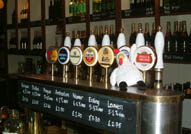 The British Beer and Pub Association says beer sales fell by 7.2% between July and September, as rising taxes and economic worries drove drinkers out of the pubs and clubs. That means the number of pints sold during the three-month period was 161m lower than last year (equivalent to 1.8m a day) – and this time it can't be blamed on the impact of the smoking ban. Worse still for the industry, we're not even choosing to drink at home instead: supermarkets and off-licences are also reporting lower sales. Perhaps the headlines have got so gloomy that we're turning to industrial-strength meths instead?
It's been a pretty grim few months for publicans, and it looks as though it's only going to get worse. Sales volumes in pubs and clubs were a painful 8.1% down on the same period last year, even though that was just after the introduction of the smoking ban (in other countries, an initial post-ban slump has been followed by a sales revival, but this year the economic climate seems to have put paid to that). As a result, pubs and clubs are having a torrid time: they're closing at an unprecedented rate of five a day, and several of the big operators – particularly the highly-leveraged groups – appear to be in dire financial straits.
But it's not just publicans seeing beer sales dry up. The news from retailers was almost as bad, with sales in supermarkets and off-licences falling by 6%. A growing proportion of drinkers are not just staying away from the local hostelries, they're avoiding beer altogether – a clear sign of the troubled times. BBPA chief executive Rob Hayward called it 'a barometer of the UK economic climate… a clear sign of a worsening economy, worried households and weakening spending'.