Samsung is feeling the squeeze as Apple and budget rivals bite
The world's biggest smartphone maker has seen profits suffer as competition hots up.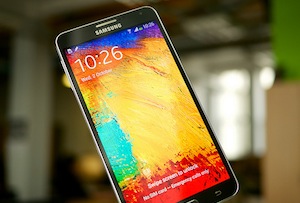 Samsung is not in a happy place at the moment, announcing today it expects operating profits to plunge 60% in its third quarter. This would mark the first ever annual drop in earnings and its lowest profits for three years, largely driven by increased advertising spend and lower smartphone prices.
As we've seen with the ongoing supermarket wars, being in the middle of your market isn't always the most advantageous of positions. While wealthy and aspiring shoppers opt for Waitrose and M&S and the less fortunate snap up bargains at Lidl and Aldi, Tesco and Morrisons in particular have felt the squeeze and are currently undergoing something of an identity crisis.

This is being mirrored by Samsung in the smartphone market. The Korean consumer electronics giant has been losing market share for the past six months, according to Strategy Analytics, as it struggles to compete with Apple's more premium iPhone and budget models from Chinese rivals like Lenovo and Xiaomi.

While its handsets are decent from a technological point-of-view, they lack the vast brand value of Apple and yet are still very expensive compared to the bottom end of the market.

The company has carved a niche in the form of larger phones and 'phablets' like the Samsung Galaxy Note, so its fight against Apple will only be exacerbated by the launch of the even bigger iPhone 6 Plus.

Despite the bad news, Samsung's share price was actually up by around 1% today as it tried to reassure investors with promises of new models to come in the future, although it has still fallen more than 20% in the last 12 months. The company also announced plans to bolster its memory chip division, which has been performing well, with a whopping $14.7bn (£9bn) to be spent on a new factory near Seoul.