Samsung tablet PC banned in US pending patent decision
The consumer electronics giant has been banned from selling one of its Galaxy tablets while courts decided on its patent dispute with Apple.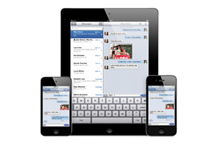 These two monoliths of the consumer electronics industry have been feuding in different patent disputes around the world for a few years now. But today, a US court has decided that Samsung will not be allowed to sell its previous model of the Galaxy tablet (it has just launched a new one, which is not affected by the ban) until a decision is made on whether it has infringed any patents owned by its rival, Apple.
Apple claims that the Galaxy Tab 10.1 rips off the appearance of its hugely successful iPad, and is keen to quash the product to preserve and grow its own market share. For the time being, Samsung is essentially Apple's only major competitor in the tablet market, and it is thought that market will overtake the traditional desktop PC market by the middle of 2013. This makes it a seriously important battleground for both manufacturers.
The two rivals are locked in disputes in dozens of countries over the issue, however, with Apple claiming Samsung copied its design, and Samsung claiming Apple copied the system its devices use to connect to the internet. Notably, it is rare that companies apply for preliminary injunctions and even rarer that courts grant them before coming to a decision on these types of disputes.