Samsung's intense desire to succeed
Jong Yong Yun has steered Samsung Electronics - part of a bigger Korean Chaebol which embraces other industries such as construction, heavy engineering and banking - from its relatively small beginnings through the Asian economic crisis of the late 90s and back out again.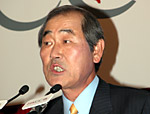 Today it is one of the world's top electronics brands with annual sales of $80 billion. Its profits peaked at $10 billion two years ago, according to Jong Yun Yun.
Jong Yong Yun, Samsung Electronics' vice-chairman and co-chief executive has achieved his success in a number of ways. A heavy investment in worldwide sponsorship of a diverse set of events (including the UK dogs show, Crufts) has helped Samsung Electronics to build its global brand, a key factor in its success.
He has also found ways to increase the speed with which the company takes ideas from the drawing board to the global marketplace. Samsung slashed the product development time cycle in the mobile phone sector to less than five months, for instance.
The memory of the economic crisis of 1997 and its impact on Samsung Electronics - after which 24,000 jobs were shed during a painful restructuring - fuels the company's zealous drive to succeed today. The fear of potential bankruptcy, says Yun, gives the company a "strong sense of crisis".
It makes them 'agile' and able to "adjust very quickly to changing markets". Yun is betting on the potential of the 'convergent devices' market (e.g. smart mobile phones and PC/TV home media centres) to propel the company ahead of its main rival, Sony.
At the same time, he has co-operated with Sony where it makes sense to do so. For instance, a partnership between the two companies in flat panel display manufacturing gives them impressive economies of scale. Says the company's British marketing director, David Steel: "People here are ambitious, visionary, and even a bit paranoid. I've never seen such an intense desire to succeed."
However, the challenge ahead for Jong Yong Yun and other leaders in the company will be to progress further on governance issues such as transparency and accountability. Without this change, its ambitions for global domination may be thwarted.

Source:
Samsung: Korean Sony killer
By Andrew Saunders
Management Today, February 2007
Review by Morice Mendoza