SAS author goes mobile
If you're familiar with Andy McNab's work, it will probably come as no surprise to learn that the SAS man-turned-author will soon be able to track you down wherever you hide.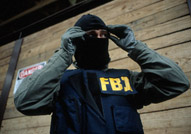 McNab is opening a new marketing front in the war for readers, attempting to sell some extra copies of his new book Crossfire via a poster campaign that targets mobile phone users. So even if you deliberately avoid bookshops around the time of his releases, it might not be enough.
The idea is that the posters for the book (which we haven't seen, but we're assuming recounts the action-packed tale of a former special forces soldier reluctantly thrown into extraordinary circumstances) will invite us to request the first chapter by text message. Fans can then download this either as audio or text, and even order the print version via PayPal.
Technically it's not quite a new front – McNab tried the same thing for the paperback release of his book Recoil (the tale of a former special forces soldier etc etc) this year, but met with only limited success. However, his media partner Spoken Entertainment is – believe it or not – quite bullish about entertainment by phone. It reckons that we will all be reading and listening to more stuff on our mobiles as the cost of browsing comes down.