Saving capitalism from itself
A victim of its own success, could capitalism be in mortal danger? As almost every major economy struggles with overwhelming problems, we enlist some expert help to examine alternatives to the status quo.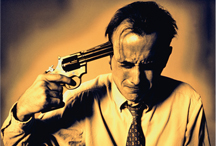 Consider: three years after the Great Crash there is still no recovery in sight. Indeed, savage cuts administered by 'advanced' economies to slash deficits incurred to save the banks are bringing citizens onto the streets. The euro is in crisis. The increasing incidence and severity of financial crashes, lurid accounts of corporate wrongdoing, unsustainable inequalities, increasingly volatile commodity prices and the plunging reputation of business all point in one direction. US-style capitalism, sums up Roger Martin, dean of Toronto's Rotman School of Management and author of Fixing the Game, a forceful critique of today's state of play, is in danger of rotting out its moral core and destroying itself from within.
Who'd have thought that, 20 years after the collapse of capitalism's only direct rival, Karl Marx's famous prediction that the system would collapse under the weight of its own contradictions would have become so much less unthinkable?
Martin isn't the only one ringing alarms. It's hard to find a business thinker who isn't. 'We're in a dreadful crisis and it's accelerating by the hour,' warns Henry Mintzberg, the veteran strategy guru at McGill, Montreal, who berates short-termism and overweening corporate entitlement for today's tensions. Charles Handy, the respected UK business observer, sees yawning inequality bringing capitalism into irreconcilable conflict with democracy itself. The defiantly red-blooded US sage Gary Hamel concluded his defence of capitalism by conceding that it has never faced more, or more daunting challenges. Even pillars of the establishment such as Michael Porter, doyen of strategy teachers at Harvard Business School, and Dominic Barton, global managing director of consultancy McKinsey, see 'capitalism under siege' and 'deep reform' needed for survival. Umair Haque, author of The New Capitalist Manifesto and a fiery and influential blogger, argues that pulling levers to activate recovery is futile because the problem isn't recession: it's the wholesale implosion of worn-out, industrial-age capitalist institutions.