Schools show lack of enterprise?
On Monday, Gordon Brown fired the starting gun for Enterprise Week, a five-day celebration designed to promote entrepreneurship. But amid the thousands of events taking place across the country, one company is warning that schools are not providing children with the skills they need to run their own business.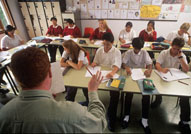 This year Enterprise Week is part of Make Your Mark, a national campaign to improve enterprise culture among teenagers and twenty-somethings. With more than 5000 events scheduled to happen before Friday, including the Enterprising Young Brits awards on Tuesday, and Women's Enterprise Day on Wednesday, there's clearly no lack of interest across the country.
But one consultancy thinks budding UK entrepreneurs are still lacking key skills – and it's all the fault of their schools. FDUK, which supplies part-time finance directors to small businesses, reckons that the curriculum is too concerned with kids learning individual skills, rather than the kind of teamwork, management and delegation skills they'd need to run a business.
The answer, argues FDUK director Mike Pawley, is to give schoolchildren more chance to get involved with schemes like Young Enterprise, where they can also learn things like budgeting and cashflow management - though as a Young Enterprise board member, he probably would say that. 'Our plea is [to make] business experience a more integral part of schooling', he says.