Scientists call for restrictions to the robotics revolution
The Foundation for Responsible Robotics has just launched in London to consider the impact of robots in society.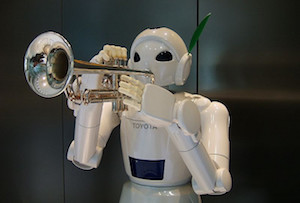 We've all joked about it – the likelihood of robots taking over not just our jobs, but possibly the entire world while they're at it – but the automation of our everyday lives has been rapid enough to prompt a group of 25 tech scholars to create Foundation for Responsible Robotics (FRR) to look into the use of robots and what it means for humankind.
The term 'robotics revolution' might be enough to instil fear into any avid fans of The Terminator, The Matrix or I, Robot, but both governments and businesses have been increasingly looking towards robotics as the potential economic driver of choice.
It's all too easy to whip up a bit of a frenzy when it comes to the unknown – particularly in technological developments, but when the likes of Stephen Hawking, Elon Musk, Steve Wozniak and the Bank of England's chief economist say we need some ground rules and fast, it might be worth applying the brakes.